You are here: Home > Our Big Trip > New Zealand > Christmas in Wanaka NZ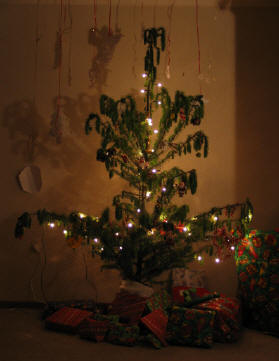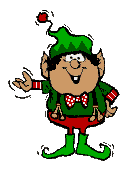 "Ho Ho Ho-ly Limp Tree" :) and Merry Christmas from Wanaka.
It has now been confirmed first hand....Santa does visit the southern hemisphere (although reports are that he has been seen wearing sandals and red swim trunks instead of his regular fare). He managed to find Cassidy and bring her the "sparkly bike" she asked him for.
As for the adults..... we realized that Christmas really is for kids (...and food...and cards....and good wine :)
Although we missed family and friends back home we had a wonderful holiday. We were joined by the Bartow Family (Gary, Corinne & Kyra) and we managed to have good weather and even a real Christmas tree (second hand from Cassidy's pre-school when they were done with it ...(see above) ....I "had" to photograph it in the dark cause it was too pitiful otherwise.....I must say....it was the PERFECT TREE for us ).
Below are a few pictures from our time together. Also see the movies from Christmas Day and our 2003 Christmas Card.